Solution of nonhomogeneous system of linear equations using matrix inverse
The solution of a nonhomogeneous system of linear equations using matrix inverse

Este conteúdo é licenciado de acordo com a Licença Creative Commons de Atribuição/CompartilhaIgual 3.0 (Unported). Isso significa que você pode redistribuir ou modificar livremente este conteúdo sob as mesmas condições de licença e precisa atribuir ao autor original colocando um hyperlink para este trabalho no seu site. Além disto, favor não modificar qualquer referência ao trabalho original (caso houver) que estiverem contidas neste conteúdo.
Calculator Inverse matrix calculator can be used to solve the system of linear equations.
This method can be illustrated with the following formulae:
Let us have linear system represented in matrix form as matrix equation



If we multiply both parts by matrix inverse we will get






This means that to find out column vector of variables we need to multiply matrix inverse by column vector of solutions.
This method can be used only if matrix A is nonsingular, thus has an inverse, and column B is not a zero vector (nonhomogeneous system).
Calculator below uses this method to solve linear systems. Default values are taken from the following equations: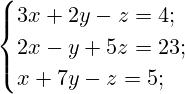 thus elements of B are entered as last elements of a row

URL copiado para a área de transferência
Calculadoras similares

PLANETCALC, Solution of nonhomogeneous system of linear equations using matrix inverse